I am asked about five times a week to write a post about Roboadvisors. I have written a little about them in the past, and even had a guest post about them, but haven't really gotten around to doing a huge write-up about them due to a lack of time and interest in doing the research required to do a really good post on them. You need to be aware that I have an affiliate agreement with some of these, so if you open an account from links on this page, I could make some money.
What is a Roboadvisor?
First, let's define the term. Probably the easiest way to define a roboadvisor is that they are a computer-based, automated service which performs "cookbook" investment management for very low fees and a very small account size.
Why Should I Avoid A Roboadvisor?
There are three main reasons I don't like Roboadvisors.
No Financial Planning. In my view, the biggest bang for your buck in the financial advising world is the financial planning aspect.
Investment Management is Easy. Among the myriad of financial tasks an individual investor is called upon to do, I think the investment management piece is the easiest. It is far easier than student loan management, estate planning, asset protection, disability insurance, practice retirement plan design, and figuring out which retirement accounts to use. I see it as a very small leap from hiring a roboadvisor to doing it yourself. If you're the kind of person who wants or needs a full-service advisor, a roboadvisor isn't going to cut it.
0.3% is 0.3%. There is a cost to hiring a roboadvisor, and that fee comes directly out of your returns. Over the course of 30 years, even a very low fee like 0.3% adds up. Consider a doctor investing $50K a year and earning 8% a year by himself, or 7.7% with a roboadvisor. You retire with 6% more ($6.12M vs $5.77M) assets (and thus a retirement income 6% higher) by doing it yourself.
Can't Handle Many Accounts. While most will do a taxable account, an IRA/Roth IRA, and maybe even a SEP-IRA, forget it if you need help melding your 401(k)/profit-sharing plan, individual 401(k), defined benefit plan, Backdoor Roths, HSA, and taxable accounts together. And if you have to either manage those yourself or hire someone else to do so, why not just do that with your whole portfolio?
Benefits of Roboadvisors
Not convinced to do it yourself? Fine, let's take a look at what you can get by hiring an advisor. Here are the main benefits:
A Good Enough Portfolio. A roboadvisor portfolio might not be personalized, but the truth is you probably don't need a personalized portfolio. Roboadvisor portfolios are good enough, and many of them are surprisingly sophisticated. The vast majority of portfolios that investors hold out there are far worse than all of the roboadvisor portfolios.
Automated Portfolio Management. One real benefit of having an advisor, even if you are a sophisticated investor capable of doing it on your own, is that you don't have to do the tasks of investing. These include rebalancing, tax-loss harvesting, portfolio design, individual investment purchases etc.
Low Fees. While I do know of investment managers with very low fees, the fact is most of them aren't doing anything that is very different from what the roboadvisors are doing. While 0.3% is 0.3%, that's a fraction of what you'd pay the average advisor to manage your money.
Best Roboadvisors. Which Advisor to Choose?
There are tons of roboadvisors out there now, and it's easy to see why. The business is essentially automated, and just like any advisor business, the more assets you gather, the more money you make. When choosing, pay attention to fees, the model portfolios, the additional benefits (like tax-loss harvesting), the online interface, and the ability to talk to a real live person if you need to.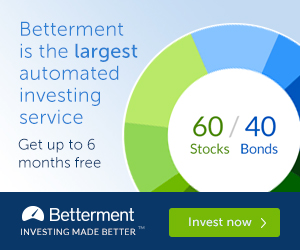 I've had an affiliate agreement with Betterment for over three years now (I get paid $29-142 if you open an account through the links on this page.) I don't think I've ever convinced more than 1 or 2 readers to use their services, which is too bad. I'm sure they're right for a lot of people. As roboadvisors go, they may be the top of the list. At 15 basis points, they're certainly the cheapest. I pay more than that in 529 fees in one of the best plans in the country.
Minimum investment: $1
Fees: 0.35% for an account < $10K with $100 a month auto-deposit, 0.25% for $10-100K, and 0.15% for >$100K
Portfolio: Vanguard and iShares ETFs
Extra features: Automatic tax-loss harvesting
I like the low fees (0.15% is dirt cheap investment management), the use of excellent funds I use anyway, and the tax-loss harvesting if you have a taxable account with them. In general, people prefer their computer interface to that of their main competitor, Wealthfront.
I have an affiliate agreement with these folks too ($50 if you open an account.) They're another great option, especially for a tiny account (since it's completely free.)
Minimum investment: $500
Fees: $0 for less than $500-10K, 0.25% for > $10K
Portfolio: Vanguard, State Street, iShares ETFs
Extra features: Automatic tax-loss harvesting, tax-optimized direct indexing.
Wealthfront gives Betterment a run for their money. While Betterment has a lower minimum, that shouldn't matter to readers of this blog. Fees are very similar, although technically lower for Betterment once you're over $100K. One unique thing that Wealthfront does (and Betterment doesn't) is their "tax-optimized direct indexing." Basically, in a taxable account over $100K they're buying the US stocks individually rather than just the US stock ETF. This helps you have more tax-loss harvesting opportunities. They buy you 100 stocks for an account of $100-500K, 500 stocks for an account of $500K-1M, and $1000 stocks for an account of over $1M. Whether that is worth an extra 10 basis points in fees, well, the jury is still out. But if you like the sound of that, you may like Wealthfront better than Betterment. Certainly both are excellent choices.
These two companies are obviously the heavyweights in the business and are clearly competing with each other. There are a few other minor differences in portfolio construction that shouldn't matter much to you if you'd consider hiring a roboadvisor. These includes Betterment's use of value funds and treasury bonds and Wealthfront's use of REITs and commodities.
Motif Investing
I've had an affiliate agreement with these guys in the past. They fit in nicely to this post. They're a little different from a typical roboadvisor in that they're a bit more DIY, but are similar enough that you can use them the same way.
Minimum investment: $300
Fees: $9.95 a trade
Portfolio: Any ETF or individual stock you desire
Extra features: Design your own motif/portfolio
To understand Motif Investing, first you have to understand what a "motif" is, or can be. A motif is a collection of up to 30 investments, which can essentially be your entire portfolio of 3-15 ETFs. Motif investing lets you buy the whole kit and kaboodle for one $9.95 fee. So once a month you buy some shares in all ten of the ETFs in your portfolio, and all it costs you is $9.95. Pretty cool, right? For $120 a year, you're good to go. If you don't want to design your own motif, they're got some pre-designed ones that are just fine, including the 7Twelve Portfolio, the classic Boglehead 3-Fund portfolio, and the Ivy League/Yale Portfolio. You'll quickly see that Motif also provides a valuable service to many speculators, but if you're in that category, you're probably not reading this article about roboadvisors.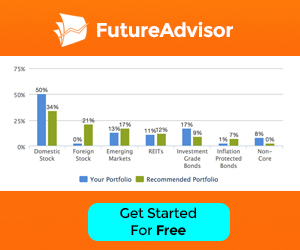 Guess what? These guys have an affiliate agreement with me too, but this one only pays me $10 if you open an account. These guys are kind of cool, in that they charge for retirement savings accounts, but NOT for college savings accounts. So if you want a roboadvisor for a college savings program, they may be your best bet.
Minimum investment: $3,000
Fees: Free for recommendations. Free for college account management. 0.5% of AUM for retirement account management after first three months (which are free.)
Portfolio: Vanguard and iShares ETFs
Extra features: Automatic tax-loss harvesting
Future Advisor's interface is generally liked. They also tend to use a significant small/value tilt in their portfolios. They are certainly a reasonable option, especially for college accounts or if you just want another opinion on a reasonable portfolio, but for 0.5% a year, you can get a live advisor so I see little reason to pay that much for a roboadvisor.
No affiliate agreement here. WiseBanyan's claim to fame is that they're the world's first free financial advisor (not counting the Bogleheads forum and me for those of you who send me lots of emails.)
Minimum investment: $10
Fees: None (kind of)
Portfolio: Vanguard and iShares ETFs
Extra features: Tax-loss harvesting (may now be free), tax prep, Backdoor Roths for additional fees
So what's the catch? How do they stay in business? Well, by selling additional services (such as tax-loss harvesting, tax preparation, and special "concierge" services like backdoor Roth IRAs or customized portfolio management at 0.5-1% a year.) They also have some brokerage type fees, like $100 to close an account. The other thing that's a little weird, is that because they're free, they have a waiting list. You can't just sign-up and start investing today. You can get off the waitlist sooner by inviting 5 friends to get onto it with you, but it sounds like it is a matter of a few days to get off it, no big deal. Bottom line: I love the price, but these guys are probably too new and too small for me to really recommend them yet, but keep an eye on them.
[Update 6/2016- The wait list is gone, minimum investment is $1 instead of $10, and they have a couple of apps and some new features.]
The cool thing about Blooom is that they have an extra "O" in their name. Oh, and unlike most of these other guys, their role is to manage your 401(k), not your IRA and taxable account.
Minimum investment: $1
Fees: $12-180 per year
Portfolio:  Depends on what your 401(k) offers.
Extra features: 401(k) management
One thing I really like about Blooom is that it is real live people running the service. There is a live chat feature, and a person checks in on your 401(k) holdings every 90 days. I also love that you don't have to open any new accounts-they just manage your existing 401(k). The main downside of Blooom is you probably need another roboadvisor too in order to do your 401(k) and IRAs. And then you're back in the position of either having different asset allocations in each account and managing them separately, or just doing it yourself. But if you're just starting out with a 401(k) and that's your only investment account, then I think Blooom is worth the $1 a month they charge.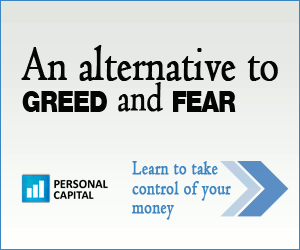 I have an affiliation with these guys ($100 if you invest the minimum $100K with them, nothing for smaller accounts). The main difference between these guys and everyone else is their relatively high minimum and their relatively high fees. The minimum is not insurmountable for most docs, and it's far less than many live advisors with $500K-$1M minimums, but it is 100,000 times the minimum at several other roboadvisor services.
Minimum investment: $100,000
Fees: 0.89% of AUM on the first million
Portfolio:  Individual stocks
Extra features: Live advisor
Personal Capital is a bit like Mint in that it aggregates all of your accounts. It comes from the same folks who did Turbotax and Paypal. Most people think it does a better job with your investments than Mint does. Just using the website is free. But if you wish to have an advisor/wealth management services, you're going to have to pay. Unfortunately, the "roboadvisor" service costs more than many live advisors at 0.89% for the first million with a gradual decrease after that. To be fair, you do get a live advisor assigned to you, but I think you can do better with a more traditional advisor for that price, and hopefully get some physician-specific financial planning thrown in as well. Another thing I don't like about Personal Capital is their use of individual stocks. "We pick at least 60," they say, but I don't think that's enough. These guys are more similar to a bad traditional advisor than to any of the other roboadvisors on this page, they're just trying to get the business of those between $100K in assets and those who qualify with most fee-only advisors at $500K-$1M. I guess I probably won't be getting very many $100 checks from them, but if you use them and like them, leave a comment and maybe I'll get a few.
No affiliate agreement here. This is Scott Burn's (the couch potato portfolio guy) company. The unique thing about this roboadvisors is the DFA funds.
Minimum investment: $50,000
Fees: 0.45% of AUM on first $200K, gradually decreasing after that. Plus commissions of $20-50 per trade.
Portfolio:  DFA funds
Extra features: Live advisor
Asset builder has been around longer than most of these other companies and is more of a hybrid live/robo advisor model. Thus the price is good for a live advisor, but a little high for a roboadvisor. The big benefit here is the DFA funds, but I think it's lame you have to pay commissions on each trade in addition to the ER of these traditional mutual funds. I'm not sure I understand exactly why that is. But if your main goal for hiring these guys is to get access to DFA, your long-term costs are likely to be lower with flat-fee blog advertiser FPL Capital Management. If you've got a million bucks, Rick Ferri's AUM fees are lower than Asset Builder's too. Bottom line: A little steep but a reasonable option for someone who really wants DFA at a much lower price (and a much lower asset minimum) than most, but not all, live advisors.
No affiliate agreement. Folio is not so much a roboadvisor like Betterment and Wealthfront but more like a really cheap brokerage that allows you to buy your entire portfolio for one low price.
The unique thing here is the "Folios," similar to the "Motifs" above. A Folio is up to 100 individual securities that you can buy and sell all at once. So if you build your own portfolio of 5-10 ETFs, you can just buy them all with one commission, instead of paying 5-10 commissions. Folio's direct competitor is Motif, but I'm not sure I can see a good reason to go with one over the other. If you decide you want to pick your own stocks and put them in a Folio/Motif, you can put 100 in a Folio, but only 30 in a Motif. Both of these services are more like a tool for a DIY investor rather than an actual roboadvisor. It's probably easier to just buy a target retirement fund at Vanguard than to use either of these.
No affiliate agreement. Jemstep is really marketed to advisors, rather than clients. It is more of an online platform that can be used to complement a live advisor than a roboadvisor all on its own. The real benefit is in aggregating all of your financial accounts together and fusing it with your own advisor's unique model portfolios and style.
No affiliate agreement. Hedgeable is a little different from the other firms in that it uses a much more actively managed strategy. Not only do they use stocks and ETFs, but they also use private equity, bitcoin, real estate, and commodities.
Minimum investment: None.
Fees: 0.75% per year rapidly scaling down to 0.30% per year for everything over $1M
Portfolio:  Stocks, ETFs (Powershares, iShares, Vanguard, Currencyshares, SPDR), private equity, bitcoin, real estate, and commodities- 200 different "customized portfolios"
Extra features: $290 a year gets you 24,000 free trades if you're into day trading
This roboadvisor uses the Folio brokerage as its custodian, which makes sense given its model. It has basically made 200 folios and added a fee on top of it for their services. The best way to describe what it does is "active management." It's a bit of a black box really, and in fact, they can take your account all the way to cash if they want. They don't use leverage, shorting, or derivatives, however. You must be an accredited investor to do the private equity, and you can opt out of the private equity and bitcoin investments, but apparently not the real estate or commodities. I can't really recommend these guys. Not only are the fees pretty high for a roboadvisor, but I really prefer to have much more control over any alternative investments than Hedgeable offers. I just don't buy the "sophistication" argument. If you have used Hedgeable, tell your story in the comments section.
No affiliate agreement. Acorns is a little bit gimmicky, but their real claim to fame is they use your spare change to invest.
Minimum investment: $5
Fees: Free for students and those under 24. 0.25% of AUM a year with a $12 minimum.
Portfolio:  4 Vanguard ETFs, 1 iShares ETF, and one PIMCO Fund in various allocations
Extra features: Round-up feature on purchases
The gimmicky thing on this one is "rounding up" your purchases in order to make a bunch of tiny investments. This one is squarely aimed at Joe BlueCollar. Basically, if you buy lunch for $5.59, 41 cents gets invested at Acorns. You're "picking up little acorns to store for the winter" if you will. This is all run through an app on your phone. But you can also do one time lump sum investments or recurring investments, so if you like the portfolios, don't dismiss Acorns just because of the gimmicky round-up feature. Also, don't think you're getting some extra bonus from your credit card rewards using Acorns. The money that is rounded up comes out of your checking account, it doesn't go on your credit card.
No affiliate agreement (dangit, but I'll be the first in line if they ever start one.) The smart folks over at Vanguard saw all these roboadvisors taking off and figured they could easily compete in this space with their focus on low costs. However, what they offer is a live advisory service for the price of a roboadvisor.
Minimum investment: $50,000
Fees: 0.3% per year
Portfolio: Vanguard funds
Extra features: Financial planning advice included, all advice given by CFPs, personal advisor for $500K and up, tax loss harvesting
Vanguard isn't going anywhere, and its heart is always in the right place thanks to its compensation models. There is a massive bias toward Vanguard investments (a moderate bias is certainly appropriate anyway) and there is always the question is just how good the advice is, especially on financial planning topics. But to have access to a live CFP for little more than Wealthfront or Betterment? It's tough to make a strong case against that. Certainly Vanguard is going to take a ton of business from overpriced, self-interested live advisors, and probably a fair amount from the roboadvisors too. If a good advisor wants to fight off this proposition, he's got to keep fees reasonable and have plenty of real value-adds, such as student loan management, asset protection, or tax management expertise.
No affiliate agreement. Schwab decided to one-up Vanguard, by offering a similar service for an even lower price- free. However, it's not quite the same service. Schwab's is called "Intelligent Portfolios," which are a collection of ETFs from Schwab and anyone who will pay Schwab to put their ETFs in the collection (i.e. no Vanguard ETFs)
Minimum investment: $5,000
Fees: Free
Portfolio: ETFs from Schwab and others (14 Schwab, 40 from others), average ER in the 0.23% range
Extra features: Tax loss harvesting
I love that Schwab does this for free. I don't like that they don't use Vanguard ETFs like everyone else. The basic Schwab ETFs are probably fine, but their fundamentally weighted ones and other ETFs are definitely less attractive to me. You also don't get a CFP on the phone to help with some of  the financial planning issues. Still, like Vanguard, Schwab isn't going anywhere and you may already have your money there.
Wrapping It Up
So there you have it, a brief overview of what's out there in the roboadvisor space right now. If you have ruled out doing it yourself, and don't want to pay for a full-service advisor, then this is a great little opportunity to get some help for a very low price. Among the more traditional roboadvisors, I like Betterment best, mostly due to their very low fees and sweet interface. Among the aggregator/brokerage services that assist DIYers, I see little difference between Motifs and Folio. Among the hybrid robo/live models, I prefer the Vanguard option. And if you want something completely free, both WiseBanyan and Schwab have nice offerings. All of the portfolios offered by all of these companies fall into the "reasonable" range (with the possible exception of Hedgeable, but even that is hard to know) and are far better than what you're probably doing now if you're considering hiring a roboadvisor.
What do you think? Have you used a roboadvisor? Would you? Why or why not? Which one do you think is the best? Comment below!