Dear Real Estate Investor –
Here's a new real estate opportunity. By way of disclosure, I have an advertising relationship with this company, meaning I get paid for making this introduction. As always with these types of deals, consider this an introduction and not a recommendation. Every deal is unique and the responsibility to vet any and every deal you invest in still lies with you. This opportunity is available only to accredited investors (income of $200K+ or investable assets of $1M+)
I have invested personally with CityVest through a previous access fund and am happy so far with performance. The access fund discussed in this email is a newer fund, called the Trion Access Fund. I am impressed with the track record of the team running the underlying fund and Katie and I are considering investing our own money with them right now.
CityVest is a company that offers "access" or "feeder" funds. An access/feeder fund is designed to lower the minimum investment required to invest into a private real estate fund and/or provide improved investment terms to a group of investors. CityVest forms a 99 member LLC with each member contributing $25-50K+ and then the money is pooled together ($2-7 Million) and invested in the larger fund with higher minimums. The access fund generally can obtain better terms from the company than a single investor with only the minimum investment can, but of course adds on its own layer of fees. The value proposition of the access fund is generally to either lower the minimum investment, obtain improved investment terms, or both.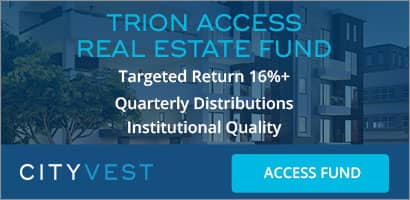 The Underlying Fund
In this particular deal, CityVest is forming an access fund to invest in the Trion Multifamily Opportunity Fund II, LLC. This is a fund that is raising 50 Million to invest in apartment buildings in high-growth West Coast markets, including California, Oregon, Colorado, Washington and Utah. Trion was founded in 2005 and has over 15 years of experience in the West Coast markets and has already acquired approximately 3,000 residential units.
With this fund, Trion is targeting annualized returns of 14%-16%, but historically has had a net IRR of 43% on sold properties. They intend to renovate each multifamily asset purchased within approximately 24 months and then hold each asset for 3-5 years. Here is a list of the properties that Trion has previously held (hit command + on a Mac or control + on a PC to zoom):
​
And here are the terms and fee structure for the Trion fund: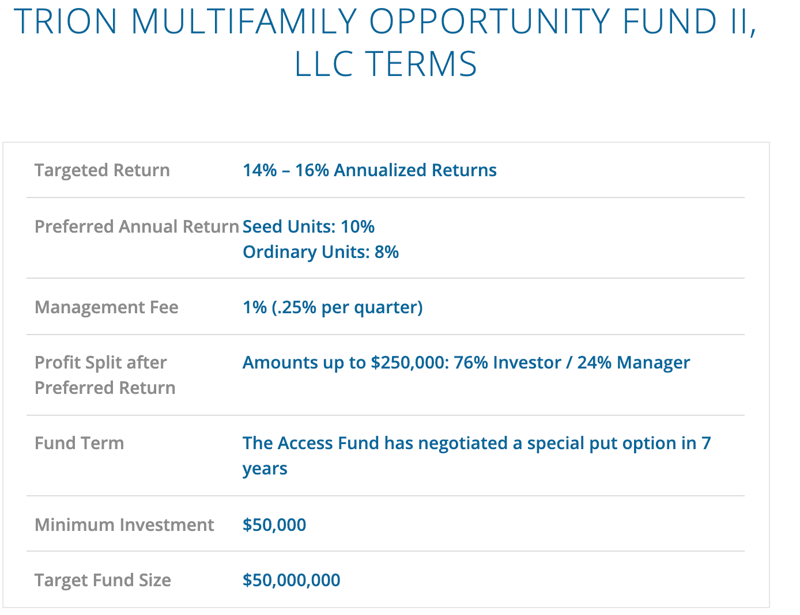 The Access Fund
The Access Fund is called Trion Access Fund, LLC and is run by CityVest with many services (accounting, tax prep etc) provided by their usual provider, Assure here in Salt Lake City. It is aiming to raise $4 Million from 99 investors to invest in the underlying fund. It charges the usual CityVest fees (0.75% + $500/year) plus there is a $50,000 set-up fee to the entire fund), although we have negotiated a discount and the first year of .75% has been eliminated. The minimum investment is now $25k if you tell Cityvest you came from The White Coat Investor. The value proposition of going through CityVest instead of directly to Trion is that you get a lower minimum investment AND you get a 10% preferred return instead of 8% PLUS you get an 80% profit split after the preferred return instead of the 76% split provided to direct investors. Here is a summary of the access fund terms: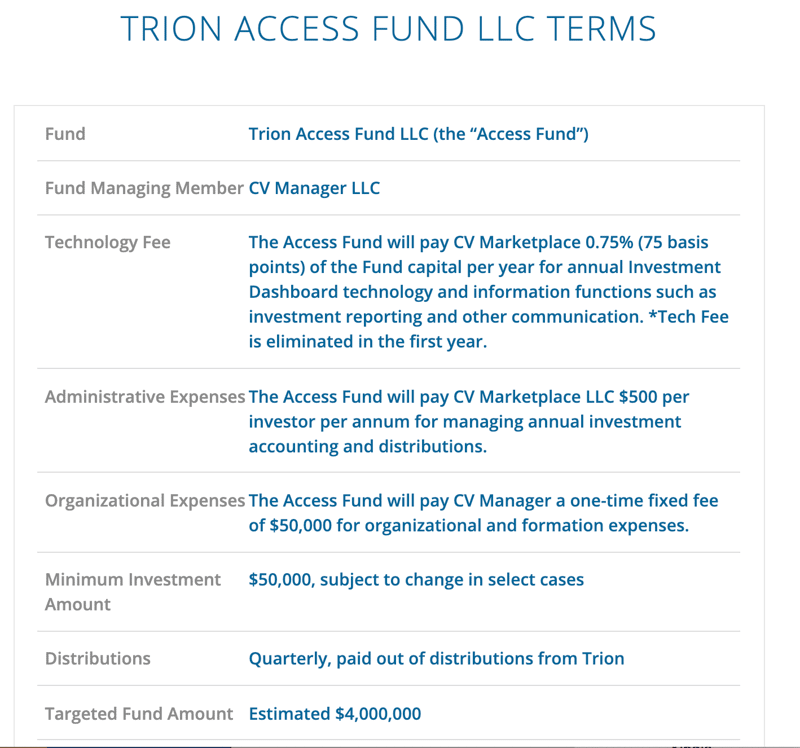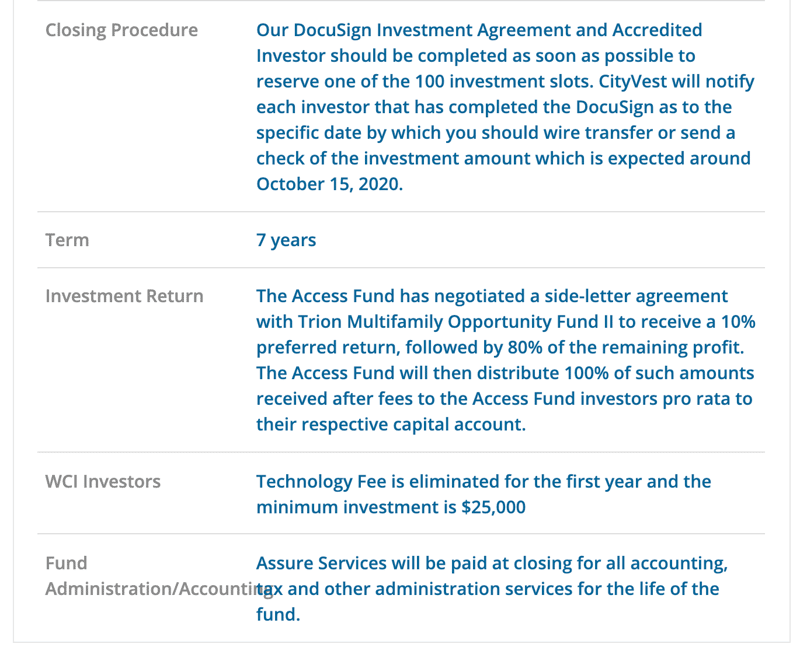 Cityvest has not only completed their own due diligence on this fund, but has also povided a diligence report from Buttonwood Investment Services, LLC. This diligence information can be viewed on the Cityvest Trion Fund Page along with the other fund information.
As an equity investment that passes through depreciation to the investors, this should be a fairly tax-efficient fund that I would put in my taxable account, but you can invest in it through a self-directed IRA if you like. Like any private real estate fund, it will make your taxes more complicated. Expect to file multiple state returns and definitely one in California.
My Thoughts:
I like multi-family as an asset class. With COVID you have to wonder if we'll see a recession in office space, but people certainly will still need a place to live! Katie and I are a little underweight in this asset class right now so we are actively looking for another fund in this space now. The track record for Trion is excellent and longer than many you see in this space. A value-add strategy is also less risky than development (although more risky than core or core-plus). These properties already exist and have tenants! The idea behind value-add is to go in and make a bunch of physical and managerial improvements that allow the managers to increase rents.
Once you have decided you like the underlying fund, the question is how you want to own it–directly or via an access fund like the one offered by CityVest. You will pay an extra layer of fees to CityVest, so you have to weigh those against the benefits. With CityVest your minimum investment is just $25K, instead of $50K. In addition, even at that level of investment you get better terms, a 10% preferred return and an 80/20 promote. In exchange for that and assuming CityVest raises the full $4 Million, you will pay CityVest a little less than 2% per year in fees for a $50K investment and a little less than 3% a year in fees for a $25K investment. If you only want to invest $25K, that would be your only option. If you are willing to invest $50K, you could also go directly to Trion and cut out the CityVest fees. However, you would then only get an 8% preferred return and then a 76/24 split above that. The improved terms could substantially reduce the bite that the CityVest fees would take out of your return. If the underlying fund hits its target after-fee, after-promote return of 14-16%, you should expect returns of 11-14% from the access fund, depending on how much you invest and how much the fund raises. As usual, expect complete illiquidity from this investment. You won't get your principal back for 5-8 years.
You get four benefits for being a white coat investor investing in the CityVest Access Fund:
The lower ($25K) minimum
0.75%/year CityVest fee waived the first year
10% preferred return (instead of 8%)
80/20 promote split instead of 76/24
They're hoping to close this fund within a few weeks, so don't waste any time if you're interested.
Learn more about the CityVest Trion Access Fund today!
You can also call (212-593-1600) the CEO of CityVest, Alan Donenfeld, anytime to discuss any CityVest investment or reach out to him via email ([email protected]) but be sure to mention you're coming from WCI to get the special WCI deal.
Thanks for your time; stay safe!
Jim
James M. Dahle, MD, FACEP
Founder, The White Coat Investor