This was an email recently sent out to the WCI Real Estate Opportunities email list. If you'd like to sign-up for that list, you can do so through the link. This email was updated 3/2 to reflect a slight change in terms (8% preferred but a waived first year fee).
Dear Colleague-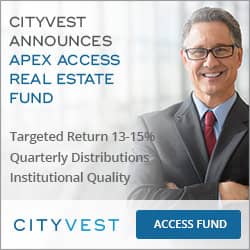 As promised, I am writing you to introduce you to a new real estate opportunity. By way of disclosure, I have an advertising relationship with this company, meaning I get paid for making this introduction. As always with these types of deals, consider this an introduction and not a recommendation. Every deal is unique and the responsibility to vet any and every deal you invest in still lies with you. This opportunity is available to accredited investors only (income of $200K+ or investable assets of $1M+).
I have previously invested personally with CityVest in an access fund and am happy so far with performance. The access fund discussed in this email is a newer fund, called the Apex Access Fund, LLC.
CityVest is a company that offers "access" or "feeder" funds. An access/feeder fund is designed to lower the minimum investment required to invest into a private real estate fund and/or provide improved investment terms to a group of investors. CityVest forms a 99 member LLC with each member contributing $25-50K+ and then the money is pooled together ($2-7 Million) and invested in the larger fund that may have a $200K-$1 Million minimum. The access fund sometimes can obtain better terms from the company than a single investor with only the minimum investment can, but of course adds on its own layer of fees. The value proposition of the access fund is generally to either lower the minimum investment, obtain improved investment terms, or both.
The Underlying Fund
In this particular deal, CityVest is forming an access fund to invest in the ApexOne Growth and Income Fund III, LP. This is a fund that was started in 2018 and is raising $150-175 Million ($100 Million already raised) to invest in value-add multi-family student housing properties. So far, it has purchased eight properties, located in Tennessee, Alabama, South Carolina, and Florida.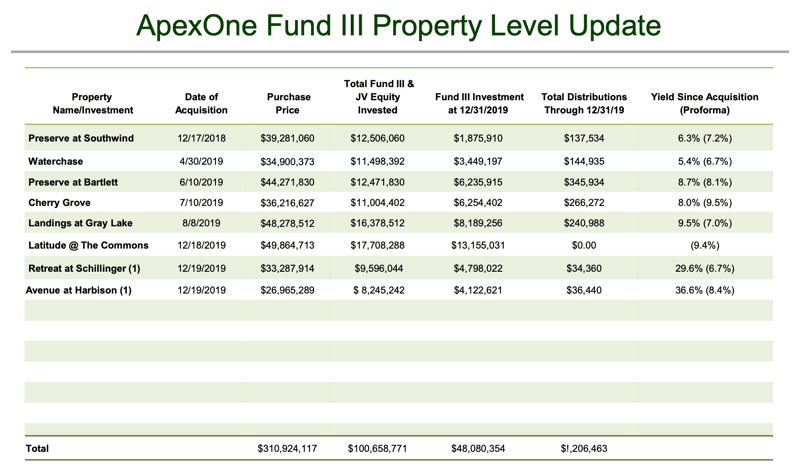 This is their third fund. Here is some info on the last two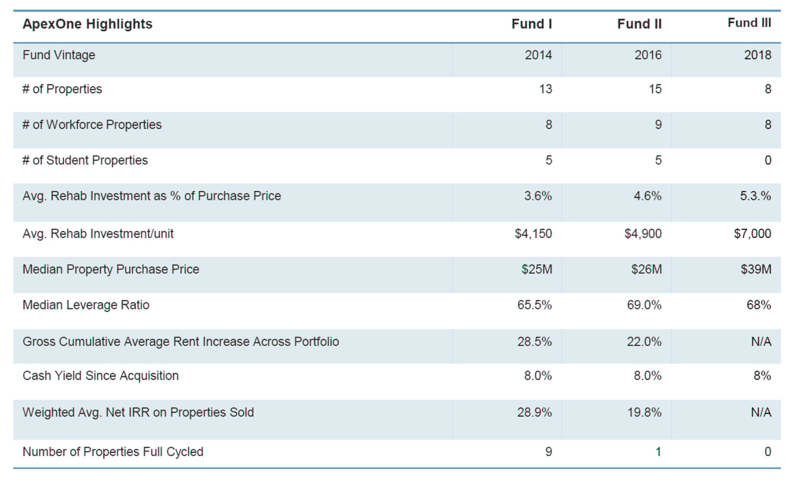 Although none of these funds have gone completely round trip, they boast an IRR of 17.7% and an equity multiple of 2.28X on the properties that have. With Fund III, they are targeting an IRR to investors of 13-15%. The underlying fund targets an income of 7-9%, paid monthly, expects to run 5-8%, and has a $500K minimum investment in their paperwork (although they told me $100K when I emailed). These are all equity investments and they are typically leveraged 65-70%. The Fund charges a 1.25% annual fee and then has an 80/20 promote after an 8% preferred return to investors. There is a catch-up to the general partner (50/50 until caught up). Here is a summary of the terms:
The Access Fund
The Access Fund is called Apex Access Fund, LLC and is run by CityVest with many services (accounting, tax prep etc) provided by their usual provider, Assure here in Salt Lake City. It is aiming to raise $4 Million from 99 investors to invest in the underlying fund. It charges the usual CityVest fees (0.75% + $500/year, plus $5,000 set-up fee to the entire fund), although I have negotiated a first year fee discount (completely waived) for you. The minimum investment is now $50K instead of $100-500K (although if you tell Cityvest you came from The White Coat Investor you can get in with a minimum of just $25K.) The value proposition of going through CityVest instead of directly to ApexOne is that you get a minimum investment 1/20th (with the WCI minimum) of the usual. Here is a summary of the access fund terms:
As an equity investment that passes through depreciation to the investors, this should be a fairly tax-efficient fund that I would put in my taxable account, but you can invest in it through a self-directed IRA if you like. Like any private real estate fund, it will make your taxes more complicated. Expect to file multiple state returns.
My Thoughts:
I like multi-family and student housing investments. I think they are likely a bit more recession-proof than retail and industrial investments and so seem a bit wiser to me at this stage of the real estate cycle. A value-add strategy is also less risky than development (although more risky than core or core-plus). The idea behind value-add is to go in and make a bunch of physical and managerial improvements that allow the managers to increase rents.
ApexOne is one of those funds that has a very high minimum that would put it out of reach of most doctor investors, so being able to get in at $25K, even with an additional level of fees, is a significant benefit, especially when combined with slightly better terms. As you do your due diligence, you will see that RealCrowd is also raising money for this underlying fund (without additional fees), but they still have a $100K minimum. The longer term on this fund (5-8 years) spreads the upfront CityVest fee over more years, but it still works out to be ~2% a year on a $50K investment. Thus, if the underlying fund hits its target of 13-15%, you should expect returns of 11-13% from the access fund. As usual, expect complete illiquidity from this investment. You won't get your principal back for 5-8 years.
You get two special discounts for being a white coat investor:
The lower ($25K) minimum and
You get your 0.75%/year CityVest fee waived the first year.
They're hoping to close this fund at the end of March, so don't waste any time if you're interested. There were a few people upset when they couldn't get into the last one but the SEC is very strict about the 99 investor limit.
Learn more about the CityVest Apex Access Fund today!
You can also call (212-593-1600) the CEO of CityVest, Alan Donenfeld, anytime to discuss any CityVest investment or reach out to him via email ([email protected]) but be sure to mention you're coming from WCI to get the special WCI deal.
Thanks for your time. As always, your feedback on what you would like to see in these emails is always appreciated. More info, less info, different info…let me know.
Jim
James M. Dahle, MD, FACEP
Founder, The White Coat Investor